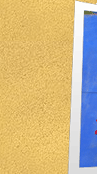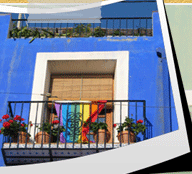 An old fishing village, Casco Antiguo was built on the ramparts of an ancient fortification, overlooking the Mediterranean.
Forsaken and decayed, the old village with its colorful facades, became forgotten, and a new city, modern and convenient has spread out to its boundaries.

It has been the same almost everywhere in Europe, where the prints of our tracks have gradually sunk into oblivion.
But these old stones, which have basked in the sun of time, represent more than ruins with no interest. They are the testimony of our civilization and serve to remind us that our ancestors adapted their habitat to the climate, and their activities were not without charm and esthetics

For a number of years, on the initiative of local authorities and visitors who have fallen under the spell of the old village, one can see the old buildings being reborn, little by little, with youth given back to an old city. If you pass through here, leave your car outside the village, because now it is just for pedestrians and, stroll in the narrow alleys with multicolored facades.
Explore and you may find some unexpected spaces, and with a little luck, you will be invited into one of these old dwellings.

All the streets in the village, are only five minutes from the sea.
Bath or take a gastronomic halt, in one of the many restaurants of the littoral.

The town of Villajoyosa is pleasant and escapes the mass tourism of its neighbor Benidorm. It has all the shops and the daily market of a Spanish town with its many traditional festivals.